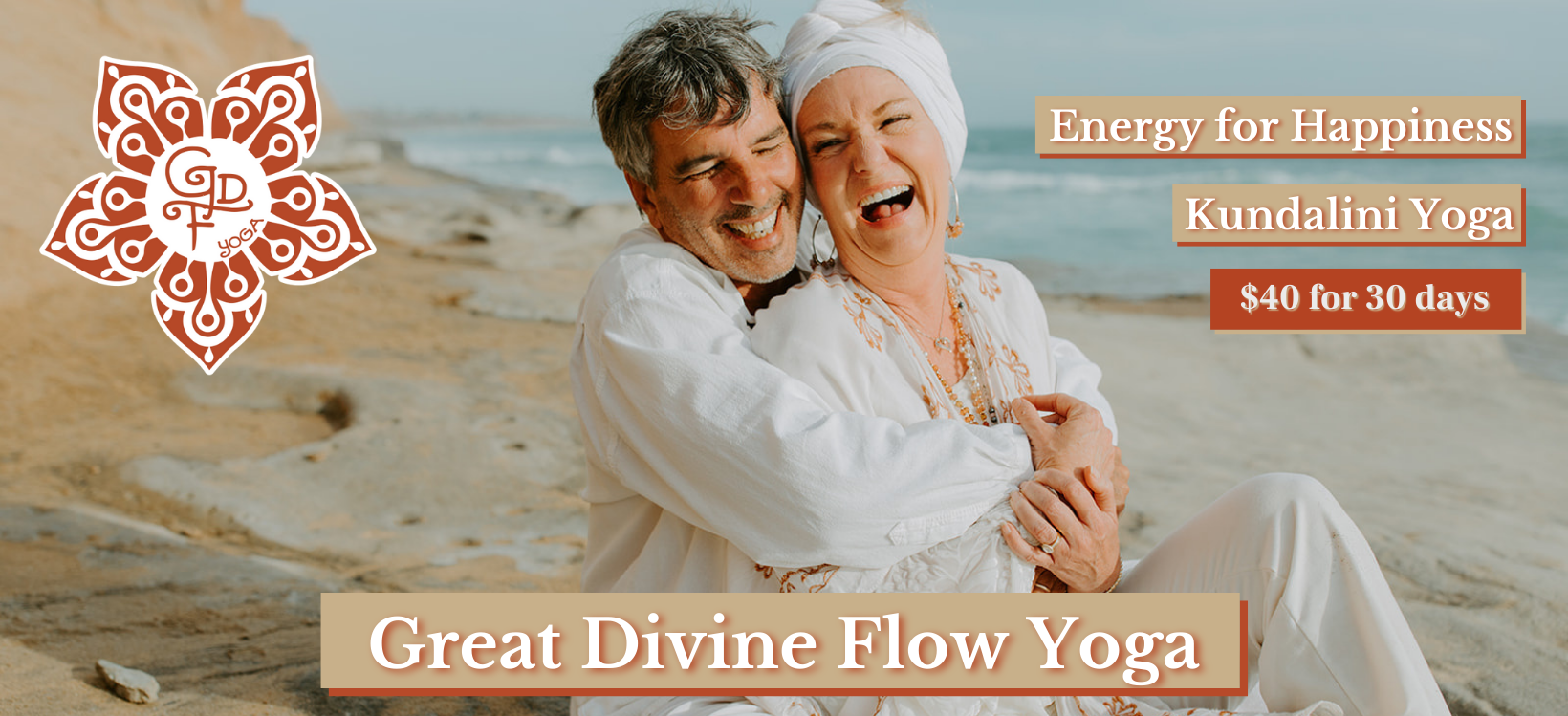 Welcome to t

he "Little Hidden Treasure" of Vista, California.
Your place for happiness, energy and transformation.

Featuring the Mahanraj Method

Kundalini

Yoga,

Meditation, Sound Healings and more! Classes offered daily in studio or online on Zoom.
Great Divine Flow Kundalini yoga studio and meditation center is located in the heart of Vista, California, and is YOUR entryway to even more Energy, Success, Happiness, Abundance and a Deep Sense of PEACE! We offer the best Kundalini Yoga Teacher Training program in San Diego, called the "Guru is YOU"!
What is Kund

a

lini Yoga?
Kundalini Yoga is an ancient, proven practice that is relatively new to mainstream America, but is catching on like wild fire! Why? This is the Technology of Happiness. For one thing, it is a direct response to our fast-paced world and IS the antidote we need for our depression, confusion, stress, anxiety, and lack of energy and focus.
The Mahanraj Method
The Mahanraj Method Kundalini Yoga is all about ENERGY! Moving Energy. Connecting Energy. Igniting Your Happiness Energy. That's why it works 16 times faster than other forms of yoga to bring you peace, success, healing and happiness! This is the Householders' yoga. It was created for you and me, your family, and your neighbor. As a result it is for every one! AnyBODY can do it! It is an absolutely unique experience. Can it be mentally and physically challenging? Absolutely! But it can be easily modified for anyBODY to do it…including kids, seniors, or even people in a chair.
Best Kundalini Yoga Teacher Training in San Diego
GDF is the Home of the "Guru is YOU", Life Mastery Training, the best Kundalini Yoga Teacher Training with both in person and online options. The Mahanrajs have been training Yoga Teachers in this transformative practice since 2011. Tony and Marcia originally ran the Kundalini Program at the Soul of Yoga in Encinitas and are responsible for training over 500 individuals in the mastery of this practice. People from across the USA and even Canada are attending the Life changing "Guru is YOU" training program with rave reviews!

More than Kundalini
In addition to the Mahanraj Method Kundalini Yoga, our studio also offers sound healings with crystal bowl and gong baths, various forms of meditation, pranic healing and Reiki, numerology readings and more. Check out our schedule below to see which classes are calling to you.
We look forward to seeing you in class! Please stop by or contact us with any questions. Sat Nam.
Home to the Mahanraj Method Kundalini Yoga,

Meditation, Sound Healings and the "Guru is YOU", San Diego's best Kundalini Yoga Teacher Training!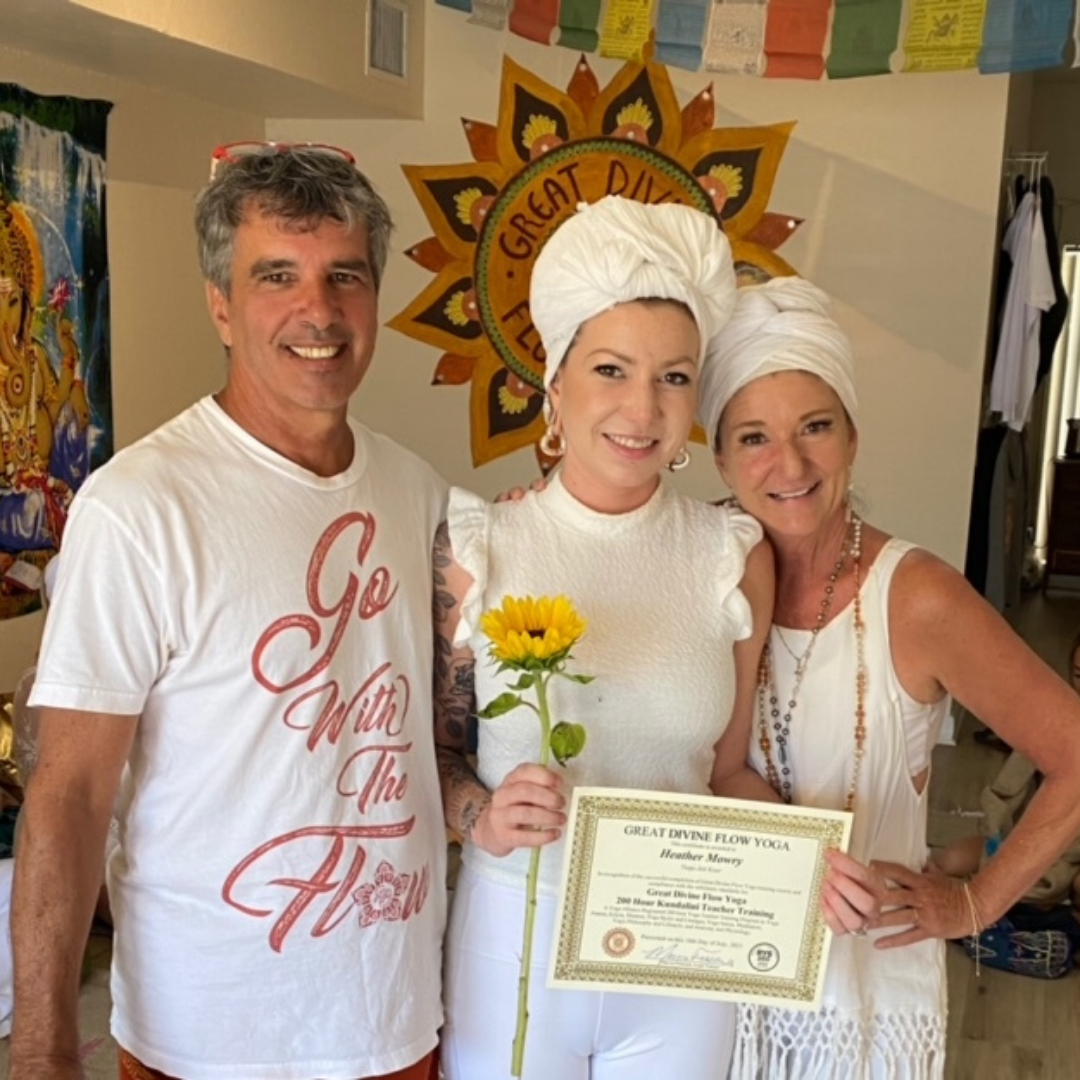 Kundalini yoga is for every body.
Meet the Great Divine Flow Yoga

Founders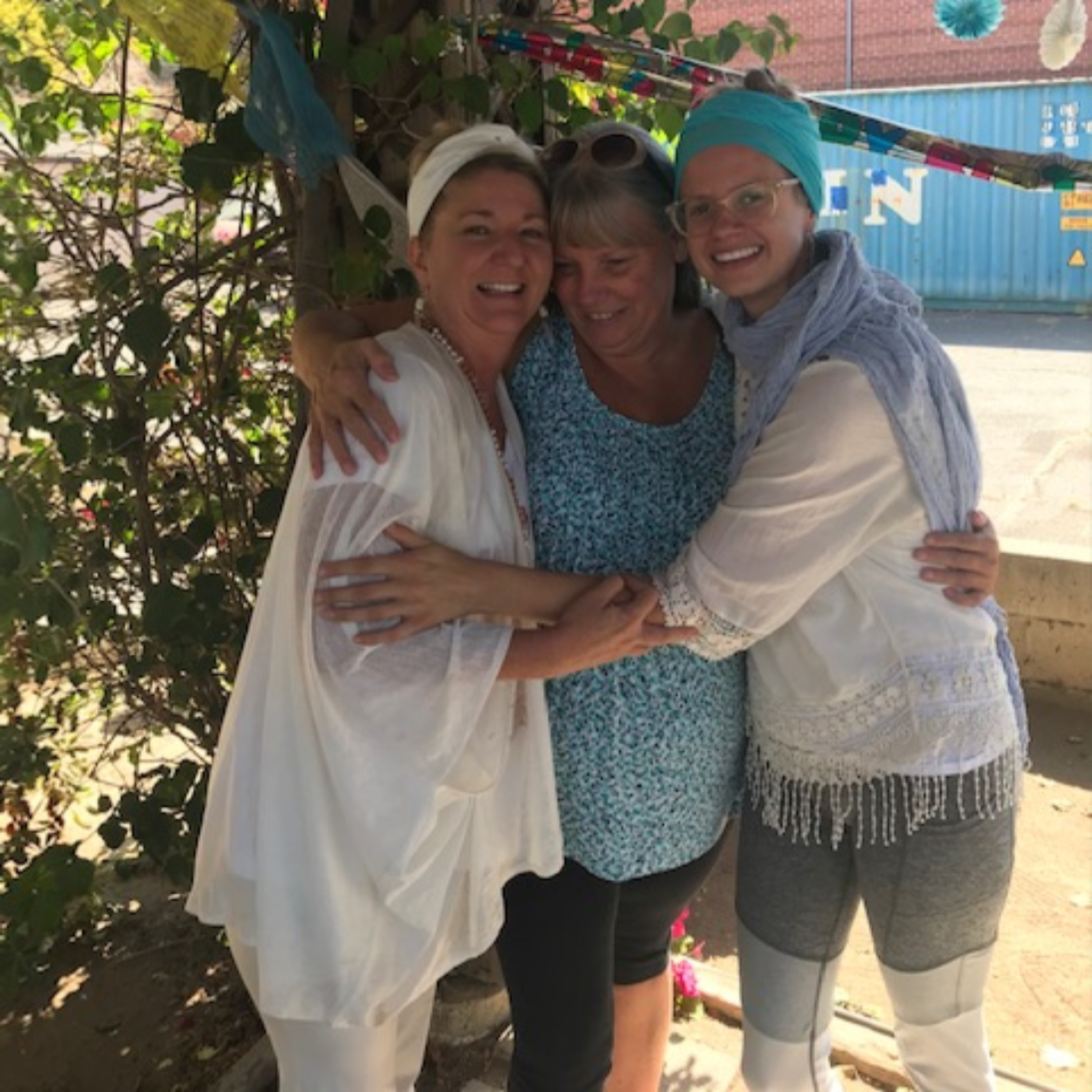 I can not give enough accolades to Mahanraj Singh and Mahanraj Kaur. I attend many Kundalini classes, including those taught by others. With out question, these two stand out as exceptional teachers They put in the time and effort necessary to create a superior class providing support for me and all of the other students in helping to create a better quality life. Their knowledge of Kundalini and willingness to live what they teach provides a total experience that is amazing. The icing on the cake is all the work they put into providing the most incredible music pushing the experience over the top!
-Penelope
I have had the pleasure of participating in Kundalini Yoga classes, workshops and teacher training with Mahanraj Kaur, "Marcia" over the past couple of years. Her relaxed, all are welcome style truly created a safe place for me to learn about this technology. Her deep understanding of Kundalini Yoga and ability to articulate what is happening in the universe through thoughtful stories has been deeply healing for me. I am filled with joy and gratitude when I think of the journeys I have taken through Marcia's teaching.
-Tracie B.
Mahanraj Kaur, "Marcia" is so 'out of the box', which makes her and her classes very unique and fun! Kundalini yoga can sometimes be way too rigid and serious and Marcia knows how to lighten things up and add a new flavor to the kundalini experience. She is authentic, real and heart centered. She shines brightly and unapologetically which gives others permission to do the same! Thank you Marcia Frescura
-Noa L.
This workshop was obviously a labor of love. Saying "thank you" for this gift is inadequate.
-SatNam, Linda Cerra
Smiles, laughter, tears, strength, breathing, dancing…. Every class is truly unique in it's own divine sweet way! Marcia Frescura your teachings and beautiful goddess spirit of yours is a blessing!! Thank you for all the personal healing, spiritual growth and family like yoga community that is shared at the soul of yoga!!!
-Lea D.
I have been mentally and spiritually transformed thanks to Kundalini Yoga and my AMAZING teachers Marcia "Mahanraj Kaur" & Tony "Mahanraj Singh" Frescura!!! Struggling with depression since childhood, I was hit hard yet again after my dad's passing last year. Knowing that doctors and prescriptions proved little help to me in the past, I sought out an alternative "prescription". I read Kundalini Yoga could help, so I searched online and found videos by a spunky, turban wearing gal named Marcia and I just had to give her class a whirl. I was hooked from the first day…and a week later I was taking The Manharaj's 3-Day Intensive workshop. Over the past year I have attended Tony and Marcia's classes regularly, as well as many of their outstanding workshops & 3-day retreats. Their enthusiasm and devotion to Kundalini Yoga as taught by Yogi Bhajan is contagious, and their love and compassion for their students & the world is inspiring. My journey with Kundalini has been spiritual, fun, weird, emotionally difficult, but ultimately life changing! My black cloud has lifted, my mind has calmed, I have a new confidence and dare I say…I am happy. Thank you Tony and Marcia for the teachings, guidance and support you've giving me this past year, for the friends I have made and for the wonderful Kundalini community you have created. If you are Kundalini Yoga curious, looking to improve your life or just want to have some fun, I can't recommend Tony & Marcia highly enough!
-Sat Nam Suzie M
I chose to experience the Kundalini Yoga Teacher Training with the Mahanrajs for two very specific reasons. First and foremost was for my own self-care and personal empowerment. I needed effective and lasting tools to keep me in balance at home and work. The combination of Mantra, movement, breathwork, and meditation taught in Kundalini Yoga is designed to ground, inspire, energize, clear, and inspire, and create an overall sense of Happiness. The training helped me gain a deeper understanding of how to use the practical tools in my daily life. Secondly, I wanted to enhance my work as a mental health professional. There are many simple meditations and tools that can be used in mainstream settings. I am witnessing beautiful transformations as I pass on practical ways for others to break addictive behaviors and thought patterns. I am now facilitating a Meditation and Mindful Movement group which incorporates all of the tools I learned in the training. My employer has invited me to facilitate breathing, meditation, and mindful movement sessions for the team of Psychiatric Doctors, Nurses, and Psychotherapists I work with. The opportunities continue to grow. The experience and resources provided in the training provided me with everything I need to be Happy, Healthy, and Whole for the rest of my life. Everyone in my life has reaped the many benefits of my completion of the teacher training. Kundalini yoga keeps me in balance and makes me feel Joyful. I continue to transform as I practice the technology and share it with others. I can honestly say that I am the Happiest I have ever been. In Gratitude,
-Katy Joy F. (Viriam Kaur), MFT, Meditation & Mindfulness Instructor
This message is only visible to admins.
Problem displaying Facebook posts. Backup cache in use.
Click to show error
Error: Error validating access token: Sessions for the user are not allowed because the user is not a confirmed user. Type: OAuthException